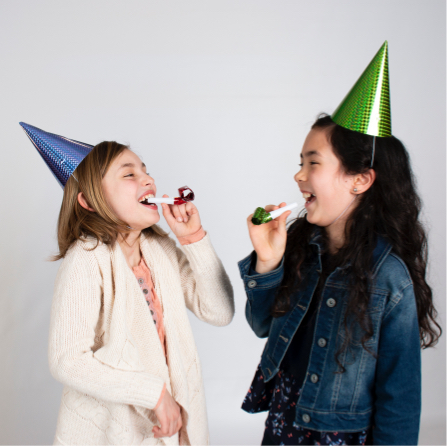 General FAQ
How much does it cost to run a GEMS Girls' Club?
GEMS Girls' Clubs does not currently have a startup fee for a club. As part of the Ministry Agreement each club signs when starting, clubs agree to pay Annual Dues by November 15 of each year. The dues are a per-girl fee determined by the GEMS Executive Board. Dues are sent to the GEMS Global Office and the funds are applied for ministry operations and outreach efforts. As part of the ministry agreement, clubs also agree to send an Annual Offering to the GEMS Global Office, often collected during GEMS Sunday. The offerings are an important area of support for the GEMS Ministry. Each club can select their own offering schedule. The offering is required by December 31 of each year (waived for the calendar year your club begins).
Clubs also have the opportunity to become Global Partners and receive Global Boxes. Global Partners make a donation to the GEMS ministry specifically to support global outreach in starting new clubs. In return, clubs receive a box of resources to help girls and counselors gain a global perspective and learn how God is working in GEMS across the globe and receive quarterly updates on the ministry's global activities. Learn more at gemsgc.org/gems-global. Clubs may also choose to Adopt a Club and make a donation to help support clubs with financial constraints. Adopt a Club donations help support annual dues and curriculum needs for clubs who request assistance.
How much is the annual dues?
The annual dues is $3.00 per girl. Each year it is due by November 15th.
How many girls do I need to have to start a club?
GEMS Clubs come in many sizes! You may start with as few as two to three girls or you may have a couple hundred! You'll want to have one Counselor (small group leader) for every 6-8 girls.
Where do clubs meet?
Most clubs meet in the sponsoring church or Christian organization and utilize classroom space as well as larger meeting spaces. Some clubs also use community centers and shared spaces through home school associations.
Does my club need to meet in my church?
Clubs must have a sponsoring church or Christian organization. The meeting location may be worked out with your church or organization. Most clubs meet in the church or organization's meeting areas.
How do we handle insurance/liability and security?
Your church or Christian organization is responsible for providing insurance protection for your club as well as providing proper background checks for your leaders. You may order our booklet Protecting the Children…Protecting our Volunteers for safety guidelines and instruction.
How old are girls in GEMS Girls' Clubs?
GEMS Clubs are developed for girls in first through eighth grades. A leadership-training curriculum for high school-aged girls is also available. While materials are produced for each of these levels, you are free to determine the specific age-range your club will offer.
How long do meetings last?
Most clubs meet for two hours every week or every other week from September through April or May.
What does a typical meeting look like?
You can format your club meetings to best suit the needs of your counselors and girls. But each club meeting includes: Welcome (a personal greeting or activity at the door for each girl), Worship (a time of singing and an object lesson/devotional in a large group setting), Word (small group time for the Bible Lesson), and Wonder (small or large group time for crafts, snacks, and/or badge work).
A sample schedule could be:
6:15-6:30 Welcome
6:30 Worship

Object lesson or devotional thought
Praise and worship
Prayer
Announcements

6:55 Word

Bible studies in small groups

7:35 Wonder

Activity time in small groups
Badge work, games, service projects, or crafts-with-a-purpose

8:15 Snack (large group or small), closing prayer, cleanup
8:30 Dismissal
Who are the leaders?
Club Coordinators are responsible for organizing the club. Counselors lead small groups of girls and may help with other areas of club including crafts, devotionals, or worship. GEMS leaders are women of faith who desire to live radically faithful lives for Christ—acting justly, loving mercy, and walking humbly with Him. They are women who understand the call outlined in Titus 2 and desire to build relationships with girls in order to mentor them and show them what it means to live God-honoring lives.
What materials do I need to have a GEMS Club?
Each program level ( Grades 1-3 Awareness Level, Grades 4-6 Discovery Level, and for Grades 7-8 Advanced Level) has multiple age-appropriate curriculum choices. Once you determine the age-range your specific club will offer, you can investigate the options that would work best for you.
You will also want to utilize our Annual Theme materials. Each year GEMS selects a passage of Scripture and develops a theme around that Scripture to make the passage come alive for the girls. Bible studies, service projects, crafts, games, and other fun activities help teach the truth of God's Word found in the theme and are woven into each club meeting.
How do parents feel about GEMS Girls' Clubs?
Parents love GEMS! They appreciate that their daughters have a safe, nurturing environment in which to learn, grow, and discuss the tough issues they face every day. They see the benefits of the relationships their daughters form with their Savior and with the women and girls at club. Parents also love the big group and family events offered through GEMS and the opportunities they provide to have important faith-related conversations with their kids.
Is there a program for boys?
Yes, Cadets is a club program that grows boys spiritually through the mentorship of godly men. Christian Service Brigade is another ministry that seeks to build young men to love and serve Christ.
What is the church's or Christian organization's role in GEMS Girls' Clubs?
Uphold and seek to accomplish the mission of this ministry—to help bring girls into a living, dynamic relationship with Jesus Christ.
Embrace and hold as truth our Statement of Faith.
Provide for regular and consistent Bible study in club by utilizing the materials produced by GEMS Girls' Clubs.
Provide Christ-inspired and Christ-directed leadership to the girls in club through the prayerful selection, supervision, and support of mentors (counselors).
Ensure that the club meets regularly throughout a designated season.
Support the GEMS ministry through regular and consistent prayer.
Support GEMS financially by ensuring that annual club dues ($3.00 per girl) are sent to the GEMS Gobal Office.
Support the ministry of GEMS financially by collecting and forwarding to the GEMS Global Office one annual offering.
What does GEMS Girls' Clubs provide member churches or Christian organizations?
Provide Christ-inspired and Christ-directed leadership to the overall ministry.
Develop effective, inspiring program materials for girls and their mentors (counselors) that are biblically-based and culturally-relevant.
Organize, plan, and provide multiple training opportunities for mentors (counselors) each year so they can be prepared and fully equipped to lead.
Regularly pray for the girls and counselors in GEMS Clubs everywhere.
Store FAQ
Back Orders
All materials that are back ordered will ship as soon as they are in stock, but please note that special order shirts are subject to availability and may take 4 to 6 weeks before shipping.
Contact the Global Office with any questions. Call 616 241 5616 x 2 or email hello@gemsgc.org
Pickups
Pickup cost is 2% of the merchandise subtotal with a minimum charge of $3.50. Please allow 24 hours for us to prepare your order.
Pickup for US Clubs at our Grand Rapids Service Center. Hours Monday to Friday 8 – 4:30pm.
Pick up for Canadian Clubs at our Canadian Supply Center. Hours Monday to Friday 8 – 5pm. Please contact Janina gems@dejong.com to arrange pick up.
Shipping
The shipping cost is 10% of the merchandise subtotal with a minimum charge of $3.50.
For rush shipments, please email hello@gemsgc.org after you place your order and include your order number when requesting a rush shipment. To help us ensure the order is delivered on time, please include the date you need your order by, and we will shop for the best rate for your rushed shipment. Additional charges will be added to your invoice.
Returns
A merchandise credit will be issued for goods returned in saleable condition within 45 days of the shipping date. For special order items returned, a $5.00 US, $8.00 CAD re-stocking fee will be charged.
Theme items are not returnable.