See what great love the Father has lavished on us, that we should be called children of God! And that is what we are! (1 John 3:1)
Our greatest desire is to be loved (Proverbs 19:22). And if we miss the glorious truth that we are already loved by God, we'll hold our emptiness up to something or someone else to fill us. Girls today often look for love, worth, and acceptance in places culture tells them to: Appearances, emotions, experiences, performance, personality, possessions, popularity, or social media. These things can leave girls feeling emptier than ever, and they miss the Truth that they are already unconditionally LOVED. by God.
Girls need to hear this Truth more than ever! The statistics about girls are sobering. Girls as young as five are worried about their weight. A girl's self-esteem peaks at age 9 and then takes a nosedive. Recent studies suggest there has been a 50% increase in depression and suicidal feelings in girls ages 12-16, and 70% of girls feel they don't measure up.
Those may be the stats, but at GEMS we know the facts. When a girl knows the Truth of who she is according to God's Word, everything changes. Through LOVED. Period. girls will learn the capital 'T' Truth of who she is—accepted, beautiful, chosen, and so very LOVED.
GEMS SUNDAY RESOURCES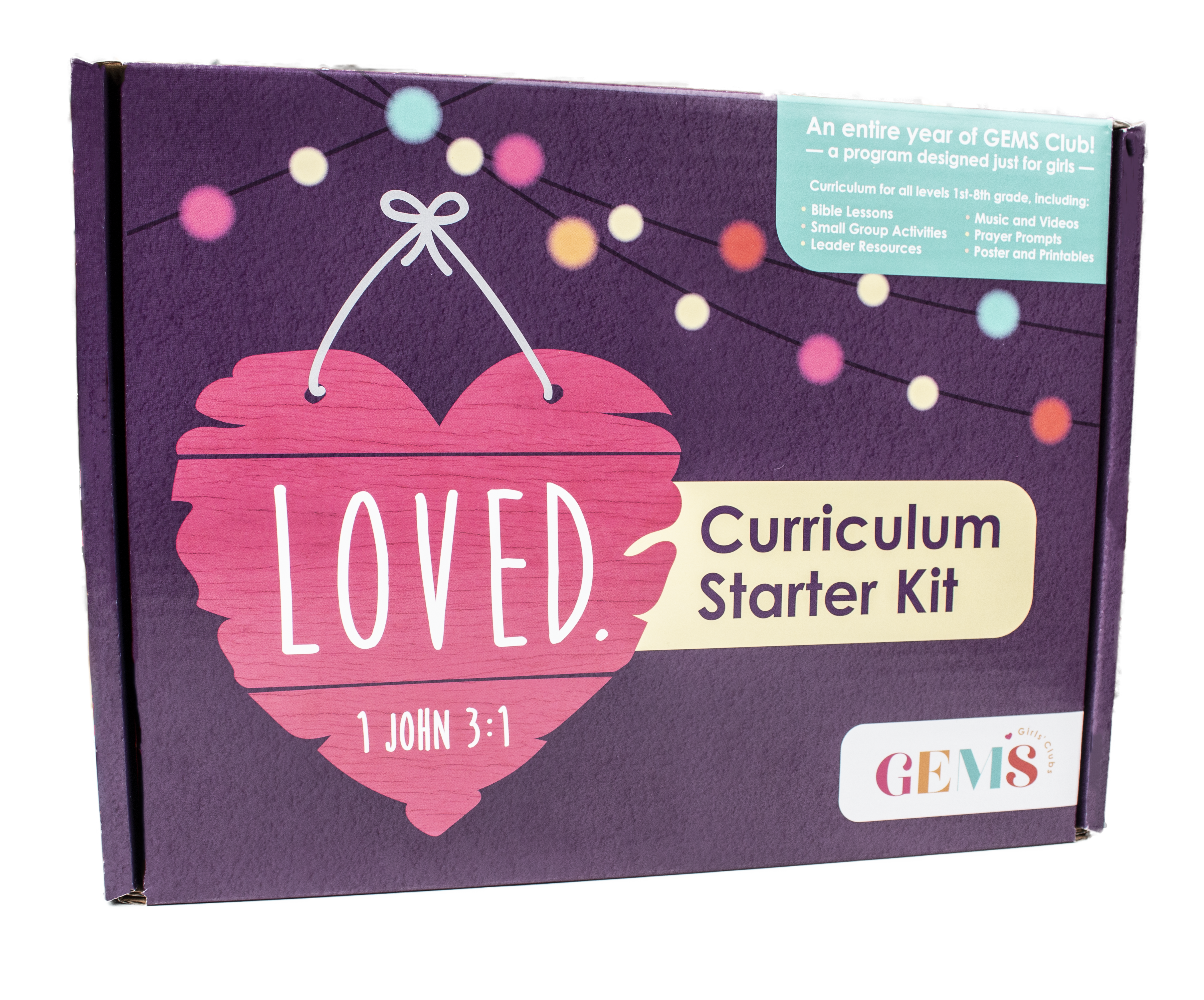 LOVED. Period. Starter Kit
The LOVED. Curriculum contains enough material for 8 months of club gatherings, including 16 Bible teachings, 7 Monthly Fun Nights, and 8 LOVED. Challenges.
The Starter kit contains:
Leaders' Resources:

Large Group Resource Book: Everything a leader needs to facilitate an engaging large group time, whether your group is 2 or 200 girls! Includes interactive lesson openers, Bible teaching scripts, craft instructions, presentation slides, and prayer guides.
Small Group Leaders' Books: Everything a leaders needs to facilitate a meaningful small group time, including a welcome activity, Bible memory work, discussion questions, leaders' helps for the GEMS Journals (girls' lessons), craft instructions, and prayer guides. (Kit includes one book each for Grades 1-3. Grades 4-6. and Grades 7-8.)

Girls' Lessons: GEMS Journals. Engaging and interactive age-appropriate girls' lessons including discussion questions, quizzes, Bible memory games, activities, and a poster. (Kit includes one set of 16 lessons for Grades 1-3, Grades 4-6, and Grades 7-8.)
Music & Media: Multi-media resources including the LOVED. theme song "Live Like You're Loved" by Hawk Nelson, worship playlist, creative movement video, weekly "Real Talk" closing videos, presentation slides, and printables.
Promotional Items & Craft Ideas: The LOVED. theme verse poster, sample registration form, printables, invitation, notepad, notebook, and more!
Additional Resources
Resources for LOVED. Period are also available for purchase individually. All resources available for purchase.
Resources that may be purchased individually include:
Large Group Resource Book
Small Group Leader's Guide (for Grades 1-3, Grades 4-6, and Grades 7-8)
GEMS Journals-girls' lessons in a take-home format. Comes in a pack of 16 lessons (enough for one girl for the entire year). Available for Grades 1-3, Grades 4-6, and Grades 7-8
LOVED. Resources-downloadable resources including the theme song, creative movement video, 16 closing "Real Talk" videos, sample registration form, theme invitation, presentation slides, and printables
LOVED. poster
LOVED. notepad
LOVED. badge
LOVED. A to Z identity cards
LOVED. A to Z identity poster
LOVED. sticky notepads
LOVED. A to Z bookmark
LOVED. t-shirts
LOVED. bulletin covers and inserts
GEMS ReFresh
Starting July 2019, find all the training you need to effectively lead the LOVED. Period. curriculum in ReFresh, the GEMS online training program.
LOVED. sessions include:
• Your Simple Guide to the LOVED. Badge Experience
• Four Essential Pieces to Structuring Your Club Meeting
• A Message for GEMS Grown-ups, the Primary Faith Nurturers
• The Joy of Sharing Jesus: How to Lead a Child to Christ
• Threading the Theme
GEMS Sunday
GEMS Sunday is an opportunity for your GEMS to show your congregation all they have been learning in GEMS. It's also an opportunity to share the mission and vision of GEMS and many churches take their annual GEMS offering during this service.