3 Prayers For Your Girl As She Navigates Difficult Relationships
Fill in the blanks with your girl's name, and then place it where you will see it often.
1. Pray she would interact with others in love.
Do everything in love (1 Corinthians 16:14).
Father, may _________________ conduct herself from a place of love. Out of the overflow of knowing how much ______________ is loved by You and me, may she treat others with kindness, patience, and respect no matter their outward behavior. Amen.
2. Pray she would look to the Lord for her defense.
The LORD is my light and my salvation—whom shall I fear? The LORD is the stronghold of my life—of whom shall I be afraid? (Psalm 27:1)
LORD, You are the light and salvation of ____________'s life, please be her strong defense against those who may come against her. Help her to be unafraid as she faces those who may tease or taunt, and instead to turn to You first for help and then to come to me.
3. Pray she would recognize God's power within her.
For the Spirit God gave us does not make us timid, but gives us power, love and self-discipline (2 Timothy 1:7).
God, thank You for giving ___________ a spirit of power, love and self-discipline when she accepted Christ as her Savior. This means she can be guided by You at all times when she is faced with difficult people, words and circumstances. Please help her sense the power accessible within her through Your spirit. In Jesus' name, amen.
A prayer for you:
Heavenly Father, I overflow with gratitude knowing that You are always with my girl. You know the difficulties she faces in her relationships today. Help her know she can trust both of us with those burdens and help me have wisdom to know how to help her navigate the challenges she faces in love. Amen.
Written by Lee Nienhuis, author of Brave Moms, Brave Kids: A Battle Plan for Raising Heroes.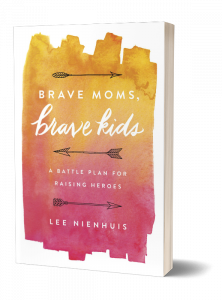 Lee loves helping women nurture prayer in their lives. You can connect with Lee at LeeNienhuis.com.