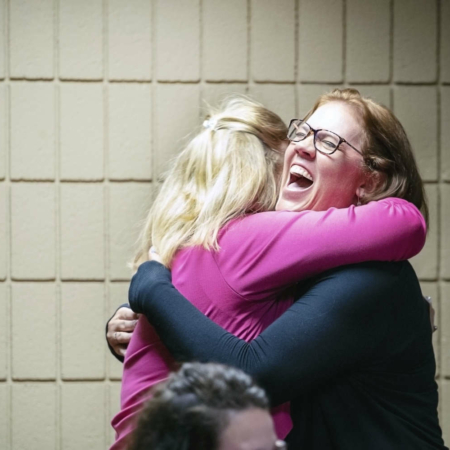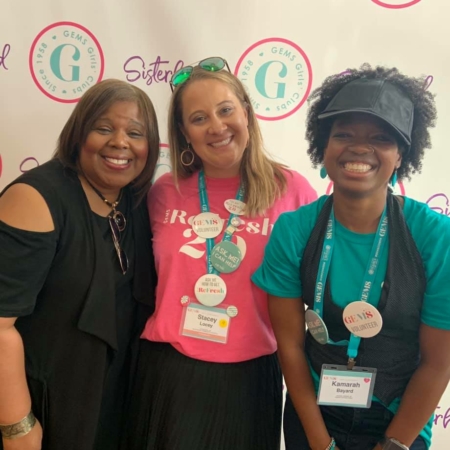 Frequently Asked Questions
Online Conference FAQs
If you have more questions, please feel free to contact Kamarah, the GEMS Customer Service Specialist, at hello@gemsgc.org OR 616-241-5616 ext 2.
HOW IS THE GEMS SISTERHOOD SUMMIT DIFFERENT FROM A REGULAR GEMS CONFERENCE?
The Sisterhood Summit is intended to build community by having all women in the same sessions together. The Summit is a simpler version of the Conference experience in that all attendees will sit in and participate in all the main sessions, without individual breakout sessions. The main sessions will include a lineup of speakers and topics that are similar to past breakout-type sessions. The Summit will also allow all virtual participants to experience the same materials and resources as those who are at the in-person event.
IS THE SUMMIT THE NEW FORMAT FOR GEMS CONFERENCE GOING FORWARD?
No. It's specific to the 2022 event to allow for greater community building and connection opportunities.
WHAT'S INCLUDED IN MY IN-PERSON SUMMIT REGISTRATION?
Your registration will include a Summit Swag Bag, all main sessions, and worship sessions, access to all the Resources, Vendors, and GEMS store opportunities, coffee and baked goods, lunch, and dinner on Friday, and coffee and baked goods and lunch Saturday. Lodging will be on your own. Access to the Summit Facebook group, and on-demand viewing for the month of August.
IF I'M ATTENDING IN PERSON IS LODGING INCLUDED?
No, lodging is not included in the registration fee. We encourage you to check out the lodging section to find lodging recommendations and blocks of rooms in the Holland area. If you need a roommate, please check the Sisterhood Summit Facebook page and search for a possible roommate there.
HOW DO I REGISTER?
Registration is open for Virtual and In-Person. Every attendee will need to provide a unique email address to receive registration links closer to the start of the Sisterhood Summit.
CAN I MAIL IN MY REGISTRATION?
To help keep everything organized and streamlined for this event, we are not offering a paper form of registration. Please contact Kamarah, our Customer Service Specialist, at hello@gemsgc.org OR 616-241-5616 ext 2. if you are having difficulty registering online.
WHEN DOES THE VIRTUAL REGISTRATION OPEN?
The Virtual Registration opens on April 16. Between now and April 16, please prayerfully consider attending in person. Seeing you in person is the first and best option. Your presence will encourage you and the sisterhood.
ARE THERE REGISTRATION DISCOUNTS?
There is an additional discounted rate available to Member Club leaders. The rates are as follows:
Registration Rate: April 16 – June 15
In-Person MEMBER: $199 USD
Virtual MEMBER: $149
In-Person NON-MEMBER: $249 USD
Virtual NON-MEMBER: $199 USD
Last Chance! Rate: June 16 – July 21
In-Person MEMBER: $249 USD
Virtual MEMBER: $199
In-Person NON-MEMBER: $299 USD
Virtual NON-MEMBER: $249 USD
Is there a Group Rate? HOW CAN I REGISTER ALL OF MY LEADERS?
Due to the nature of an online event, every attendee must purchase an individual registration with a unique email address. We have streamlined the registration form this year to make this process as easy as possible. Because we're offering both virtual and in-person options, we've kept it simple by offering one rate instead of multiple options.
I'M NOT CURRENTLY INVOLVED IN A GEMS PROGRAM, CAN I ATTEND?
Yes, the GEMS Sisterhood Summit is open to all current and past GEMS leaders and ANY woman who desires to be encouraged by a sisterhood of faith-filled women. If you want to learn more about walking alongside young girls, or worship with and be encouraged by other women of faith, then join us either virtually (registration opens for virtual attendance opens on April 15) or in person, the Sisterhood Summit is the place for you.
WHEN DOES REGISTRATION END?
You can register through the end of the day on Wednesday, July 20. Please note that your virtual attendees will receive a Summit Swag Box. These boxes will continue to be mailed to those who register after June 15, however, receipt prior to the Summit cannot be guaranteed.
CAN CITS ATTEND THE SISTERHOOD SUMMIT?
Yes, we welcome and encourage Counselors-In-Training (CITs) to attend.
WILL TRANSPORTATION BE PROVIDED TO/FROM THE AIRPORT OR HOTELS?
No transportation will be provided this year. We encourage you to use the Summit Facebook group as a means of communicating with other attendees to seek ride-sharing or information.
WHAT IS THE CANCELLATION POLICY?
If you find yourself unable to attend this great event, there are several options:
Give your ticket to a friend. All registrations are completely transferrable.
If you registered for the in-person event but find yourself unable to attend, you will receive access to all the event recordings following the event.
In the unlikely event that our in-person Summit is unable to meet, the event will proceed as a live-stream experience. Attendees who have registered for the in-person event will not receive refunds but will have their tickets converted to virtual watch party registrations. All swag will be mailed directly to them.
HOW WILL I BE ABLE TO ACCESS THE VIRTUAL SUMMIT?
During registration, you will register with an email address which will be the address we communicate details through. As we get closer to the event, you will receive emails from GEMS with links and instructions on how to view the event.
WHAT IS THE SUMMIT SWAG BOX?
The Summit Swag Box is for anyone who attends the Summit virtually. This fun Welcome & Hospitality piece includes items to guide you through the Virtual Sisterhood Summit experience. Attendees who register by June 15 should receive the Summit Swag Box prior to the start of the Summit. These boxes will continue to be mailed if you register after June 15, however, on-time delivery will depend on your postal system.
WHAT TECHNOLOGY DO I NEED TO PARTICIPATE?
A high-speed internet connection and access to a desktop, laptop, tablet, or smartphone device.
DO I NEED ZOOM ACCESS FOR THE ONLINE PORTION?
No, you will not need Zoom access this year since we won't be breaking into breakout sessions.
WHAT'S INCLUDED IN MY VIRTUAL WATCH PARTY/ VIRTUAL SUMMIT REGISTRATION?
Registration will open on April 16, 2022. Your Virtual Summit registration will include full access to all Summit components including the digital program book, praise & worship, keynote messages, Summit Swag Box, exclusive access to the Summit Facebook group, and on-demand viewing the month of August.
IF WE'RE WATCHING VIRTUALLY WILL WE RECEIVE A SUMMIT PROGRAM BOOK LIKE WE'VE RECEIVED IN THE PAST?
A digital Program Book will be available to each person who registers. This comprehensive book will contain loads of useful information. You will be able to print the entire book or select which pages you'd like to print out.
CAN OUR LEADERS PARTICIPATE AS A GROUP?
Yes! We highly encourage you to host virtual watch parties within your area if you are not able to join in person. Please be mindful to follow your church, local, and state guidelines for safe in-person gatherings. Please note that every woman at your watch party will need to have purchased an individual registration prior to the start of the Sisterhood Summit. Members may prefer to have their own device for chat features that will be enabled for the sessions.
SINCE IT'S VIRTUAL, CAN I SHARE THE LINKS WITH OTHER PEOPLE?
Each registration is intended for one person; please do not share the links with others.
HOW CAN I BE SURE MY INTERNET SPEED IS FAST ENOUGH TO STREAM THE SISTERHOOD SUMMIT?
We recommend at least 4-5 megabytes per second (mbps) of connection speed to stream the event with minimal interference. To check your current speed, you can go to SpeedTest.net.
IF I ATTEND VIRTUALLY I'LL MISS SHOPPING AT THE GEMS STORE. WHERE CAN I FIND THE LATEST PRODUCTS AVAILABLE?
Please visit our online store at https://gemsgc.org/store/.
DO I HAVE TO TUNE IN AT THE TIMES POSTED?
To get the most from your Summit experience, we recommend following the published schedule. We've designed the Summit to be interactive and engaging and our event hosts will be coming to you live throughout the event. Each session link will become active prior to the official start time to give everyone a chance to settle in.
Following the event, sessions will be uploaded for on-demand viewing through August 31, 2022. All registered attendees will be emailed viewing instructions once the videos are ready.
WHO SHOULD I CONTACT IF I HAVE ADDITIONAL QUESTIONS?
Please feel free to contact Kamarah, the GEMS Customer Service Specialist, at hello@gemsgc.org OR 616-241-5616 ext 2.
---