God's Best Creation
It's easy to get busy and forget about spending time outside. Maybe it's too cold, or too hot outside, or we'd rather just be a couch potato. But God created a big and interesting world just for us to explore!
Patti Rokus is a brand new author who learned how important it is to spend time outside in nature. Patti used to spend all her time inside doing her work. But then she hurt her back, and the pain made it too hard for her to focus. When the pain didn't go away, she started to wonder if God really cared for her at all.
God answered Patti's prayer when she went for a walk outside a few days later. As she was walking, hunched over in pain, Patti spotted a walnut shell on the ground. It looked just like a heart! Patti sensed right there that God was telling her He loved her, and He had a plan.
As Patti's back healed, she started looking for hearts everywhere in nature. Patti especially started collecting pretty rocks that reminded her of God's love for her.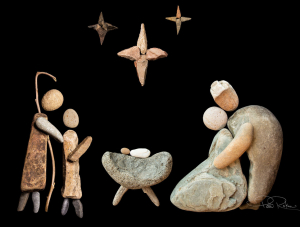 Then, one day, Patti spread out the rocks she'd found. She started seeing people and stories in the rocks. So Patti made the story of Jesus' birth with the rocks, and shared it with her friends. They loved it and wanted her to make her rock story into a book!
Now Patti has three books, and is spending lots of time in nature with God. You can learn more about Patti
on her website!
Be sure to check out your March issue of Sparkle to get some tips for enjoying God's creation and a special nature craft!