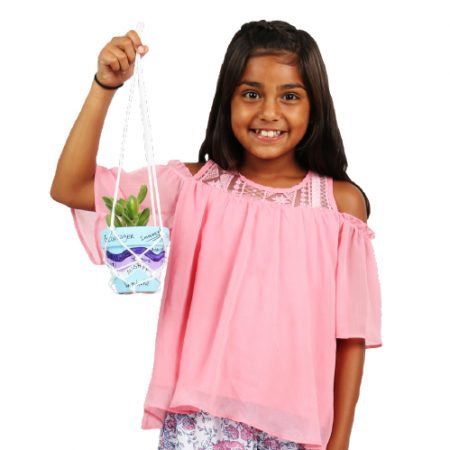 Crafts
MACRAME HANGING PLANTER
What You Need
Paint
Scissors
Paintbrush
Small terracotta pot
Permanent marker
2 mm wide macramé cord
Soil
Plant
Directions
Paint your pot and let it dry. Using a permanent marker, write words that remind you who Jesus is—words like mighty, Immanual, or Love.
Cut eight pieces of cord that are each 35 inches long (90 cm). Tie together all eight strings and trim the ends.
Turn your pot upside down. Stick the knot through the center hole in the bottom of the pot. Divide the cords into pairs.
Tie a knot into each pair of cords to hold them together. The knot should be in line with the bottom rim of the pot.
Divide each pair of cords to form new pairs of cords and tie a knot about 1.5 inches (3.8 cm) from the first knot. Repeat this with the other pairs of cords. Divide each pair of cords again and repeat this step two more times.
Turn the pot upright and tie all 8 cords together at the top of your hanging planter. We suggest leaving space above the top of your pot to save room for a plant to grow.
Add soil and a plant and hang!