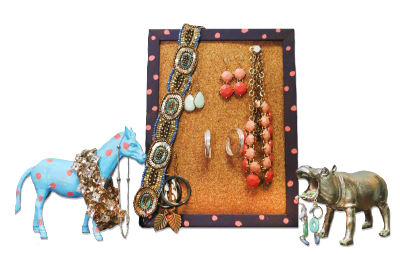 Crafts
DIY JEWELRY HOLDERS
What You Need
ANIMAL JEWELRY HOLDER:
Plastic animals
Spray paint
Paint brush
Acrylic paint
FRAME JEWELRY HOLDER:
Old picture frame
Paint
Paintbrush
Corkboard roll
Scissors
Tacks
Directions
ANIMAL JEWELRY HOLDER:
Spray paint the animals and let them dry. It may take two coats to make sure the animal is covered evenly.
Decorate the animal with your paint brush and additional paint. Add polka dots or other designs!
Hang rings, bracelets, and other jewelry from the animals!
FRAME JEWELRY HOLDER:
Paint your frame. Let it dry.
Cut a piece of corkboard from your roll that will fit the size of your frame.
Use tacks to hold your jewelry!