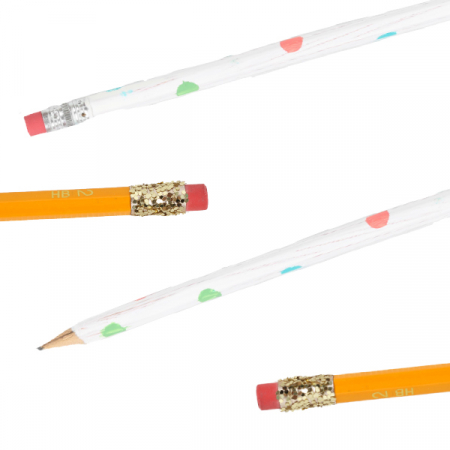 Crafts
DECORATIVE PENCILS
What You Need
GLITTER PENCILS:
Pencil
Glitter
ModPodge
Paintbrush
POLKA DOT PENCILS:
Pencils
White acrylic paint
Colored acrylic paint
Paintbrushes
Hole reinforcement labels
Directions
GLITTER PENCILS:
Use the paintbrush to coat the metal portion of the pencil with ModPodge.
Dip the pencil in glitter.
Let the ModPodge dry before using!
POLKA DOT PENCILS:
Paint your pencils white and let them dry completely.
Stick the hole reinforcement stickers in random spots along the pencil.
Use a paintbrush to paint the center of the hole reinforcement stickers. These will be your polka dots. Once your spots are completely dry, remove the stickers.