Christmas Around the World Crafts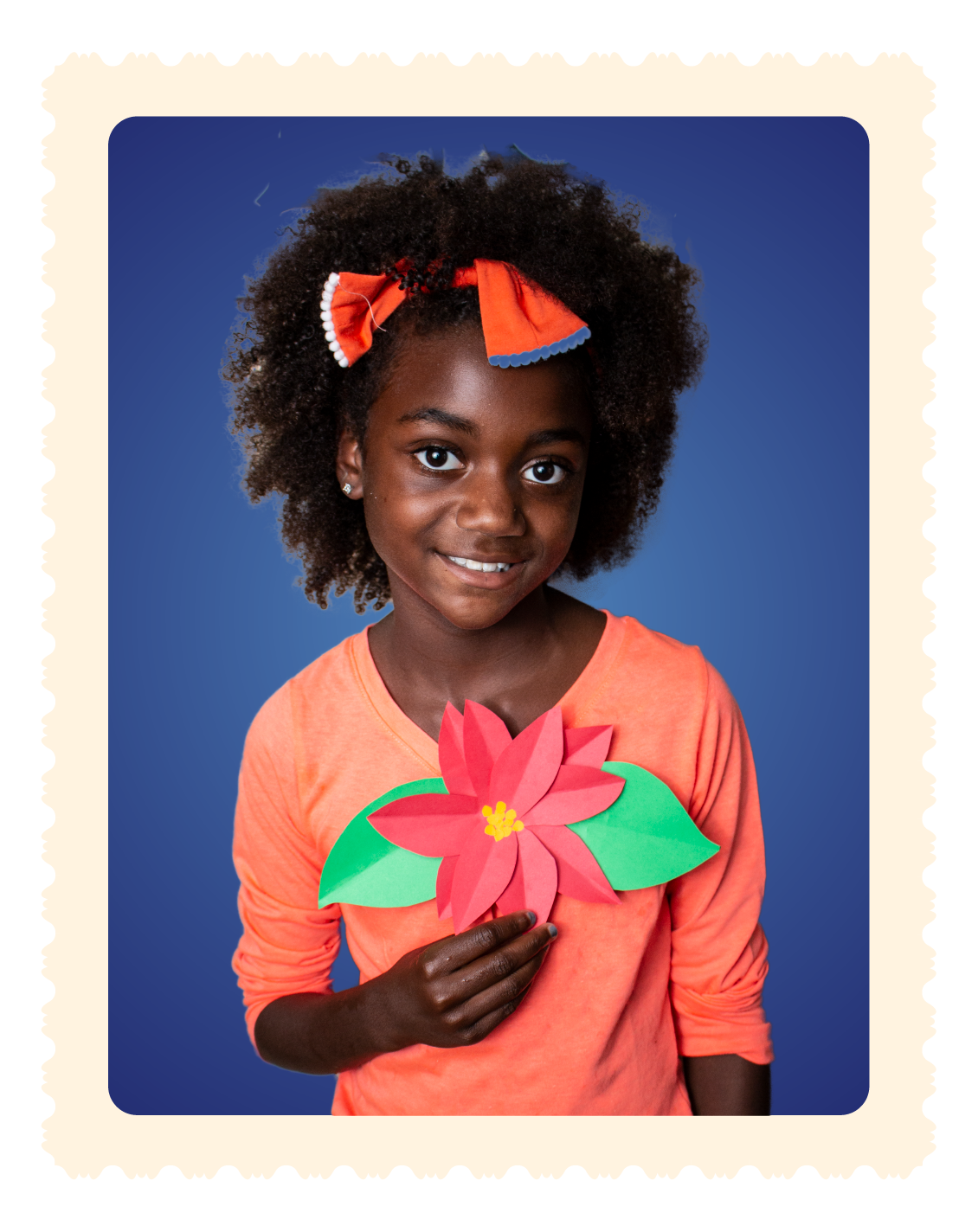 Mexico: Christmas Eve Poinsettia Craft
Poinsettias, the beautiful red flowers that appear every Christmas, come from Mexico! Legends in Mexico say that a poor girl heard about the birth of Jesus and wanted to bring Him a gift. Sadly, she had nothing to give. The girl decided to pick some weeds along the path to give to Jesus. She knew she didn't have much, but she hoped she would be enough of a gift. When she reached Jesus, the weeds burst into a beautiful, red flower! That flower was the first poinsettia and marks the holiday season every year. Make your own poinsettia using the instructions below!
Supplies:
Red paper
Green paper
Glue
Gold liquid paint/glitter or yellow paper
Scissors
Directions:
Cut out 2 five-petal flowers from the red paper, with at least
a 1 in (25 mm) space in the center of each.
Cut 4 leaves with jagged edges from the green paper. You can draw veins on each leaf if you'd like.
Glue the center of one flower on top of the other, so the petals aren't directly in line with each other. Then glue each leaf to the bottom of the flowers, with the leaves poking out in different directions.
Put 5 small dots of gold paint or glitter into the center of the flower, and let it dry. You can cut out circles of yellow paper if you don't have gold paint or glitter.
Download our pattern to make your paper poinsettia.
The Philippines: Christmas Parol Lantern Craft
One important part of Filipino Christmas is the parol, a star-shaped paper lantern. This lantern is put on houses to remind everyone of the star of Bethlehem. This star led the wise men to Jesus. It also is a symbol of Jesus being the light of the world. This year, you can make your own parol! Follow the instructions below. If you need help cutting each shape, use our free download!
Download our Christmas Parol pattern
Supplies:
1 piece of black paper
A few different pieces of colored paper (green, red, yellow, etc.)
2 ft (1/2 m) thin ribbon
Scissors
Glue/tape
Directions:
Cut a large black star from the black paper. Then cut a pentagon from one of the colored papers. Cut five triangles from the other colored pieces of paper. The more colors you use, the better!
Glue or tape your pentagon to the center of your black star. Then glue one triangle to each point of the star.

Cut the ribbon into 4 in (102 mm) segments. Glue or tape 2 pieces of ribbon to the back of each base point of your star. You should have 4 pieces of ribbon trailing from the bottom of your star. Now you can hang your parol on your on your bedroom door, or on your Christmas tree!
Find more great Christmas crafts in your December issue of SHINE brightly!
Back to all posts >>