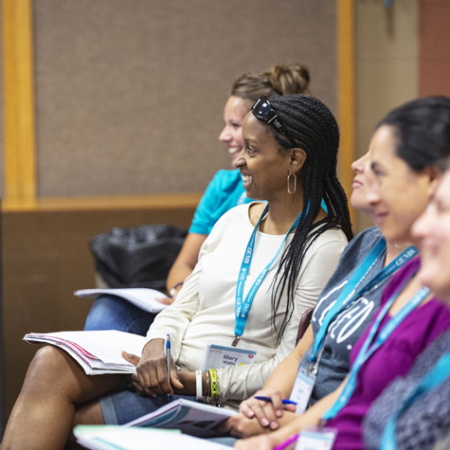 10 Ways to be Real in an Artificial World
Speaker:

Brenda Yoder

Sessions:

Friday Pre-Conference 1, Friday Pre-Conference 3

Category:

Girls, Pre-Conference
Teens and young adults will tell you how exhausting it is to maintain an image or relationship in the pressurized world of perfect and fake perpetuated by social media (like Finsta!) In this seminar, counselor, author, and speaker Brenda L. Yoder will talk to both teens and adults about how to equip girls (and women) to be authentic and real in an artificial world. This session will be offered during Pre-Conference Session 1 and 3.
A Beloved Daughter's Mentality
Speaker:

Katie Reid

Sessions:

Saturday Session 3

Category:

Encouragement, Theme
Is it hard for you to receive? Do you feel like the weight of the world is on your shoulders? Whether you are a mother or a mentor or both, it's crucial to understanding that you are a daughter of God—not just a doer for God. Understanding that God's grace is a gift to be received and not a prize to be earned, will free you to serve from a place of settledness instead of striving. There are good works to do, but those works are not what make you worthy. In this dynamic session, you will be encouraged to walk out your identity as a beloved daughter, and serve God from a place of strength and peace. Ephesians 2:8-10 is key verse for this message. This session is based off key themes from Katie's book, Made Like Martha Good News for the Woman Who Gets Things Done.
The Atmosphere of Heaven
Speaker:

Robert Sims, Jr

Sessions:

Saturday Session 3

Category:

Encouragement
Your dreams need the right atmosphere to grow to their potential. Every young lady wants to see the full potential of her dreams come to pass, but there has to be an atmosphere so that your dream can become a reality. "For I know the plans I have for you," says the LORD. "They are plans for good and not for disaster, to give you a future and a hope" Jeremiah 29:11 ESV. God's plans and His dreams for His daughters are phenomenal, but they must be properly cultivated, nurtured, and protected. Let's unpack God's Word and see how practical His Word is for fulfilling His plan and purpose for your life and how you can set the atmosphere to move further, and faster in your kingdom purpose.
Authentic Discipleship: Practicing the Presence of Jesus
Speaker:

Jen Rozema

Sessions:

Saturday Session 1

Category:

Encouragement, GEMS
Discipleship happens best in the context of relationship… but how do we move our relationships past friendship into intentional discipleship? As women of God we are called to mirror Jesus in such a way that we bear the presence of the Holy Spirit to those around us in an authentic, purposeful way. By practicing the presence of Jesus, we become women who walk more closely with Him and naturally lead others to do the same. Come, join us for this insightful and heart changing discussion.
Beauty in a Bathing Suit, Lord, Are You Sure?
Speaker:

Jenn Hand

Sessions:

Friday Pre-Conference 2, Friday Pre-Conference 3

Category:

Encouragement, Pre-Conference, Theme
Have you ever looked in the mirror and struggled to believe that you are beautiful? As women it is very easy for us to compare our beauty to culture, our neighbor, our friend, or the person next to us in the gym. Is it possible to find a God-given confidence in the ways we are fearfully and wonderfully made Psalm 139 style? Join us for this workshop as we dive into throwing the lies of the enemy back in the mirror and find inner and outer beauty in our worth in Christ. (PS: no bathing suit wearing required.) This session will be offered during Pre-Conference Session 2 and 3.
Believe it! God Says You are Amazing!
Speaker:

Racyheen Sims

Sessions:

Saturday Session 3

Category:

Encouragement
Do you see yourself as the amazing woman that God created you to be? If not, you need to join us in this session to get to know yourself better. You will learn to replace the lies that you've been lead to believe with Biblical truth. We will discuss how to listen to God rather than our ever-changing emotions and figure out where you are on life's journey. We will seek God's discernment to discover what you need to fully embrace yourself as the amazing woman God uniquely created.