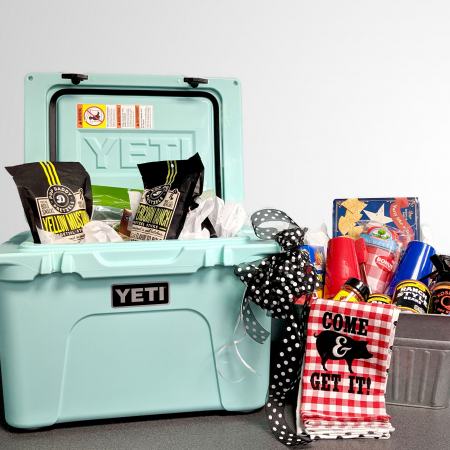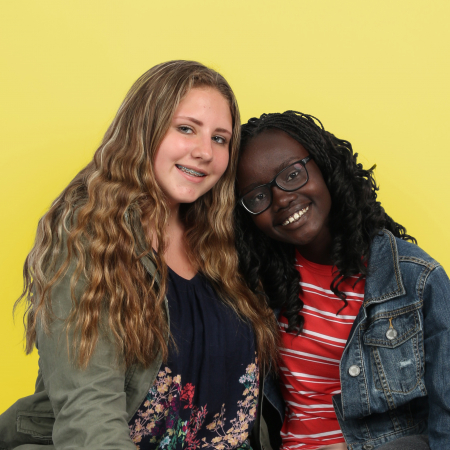 Tonight you have the opportunity to bid on baskets lovingly prepared by GEMS Clubs around the world. Have fun bidding! Bids will be accepted through dinner. The winners will be announced prior to the beginning of the dinner program. Checkout will occur at the checkout table before leaving. All basket proceeds directly benefit GEMS Girls' Clubs.
Please note: due to Frederik Meijer Gardens policies, no alcohol is allowed in the building. If your basket contains alcohol, you can pick this up outside the building at the end of the evening. A GEMS representative will be waiting for you.
Canadian Culinary Creations


Clubs near Ottawa, Ontario present a sampling of delicious Canadian crackers, tarts, cheeses, and syrups all perfectly paired with "The World's Best Chocolate." The basket also includes an Instant Pot, invented in Ottawa!
Value: $130      Minimum Bid: $85

Candy to the Corn


Get a taste of the farm with this basket from Southern Iowa GEMS clubs. Includes a collection of sweets, and a gift card to order up locally grown meat from In't Veld's Meat Market in Pella, Iowa. Select your choice of beef, pork, or specialty bologna.
Value: $125      Minimum Bid: $80

Basket of Sunshine


Soak in the rays with a variety of Floridian snacks and seasonings as well as tumblers, an insulated lunch tote, and a salt scrub.
Value: $75      Minimum Bid: $45

Wild West


Buffalo is a huge part of South Dakota's history and this basket is full of everything bison. Includes a gift certificate for buffalo burgers and all things South Dakota grown, including wine and beer.
Value: $300      Minimum Bid: $180

Iconically Iowa


From the heart of the Midwest, enjoy some Northern Iowa favorites. Included is a bag of Bing candy bars, Wilhemina mints, and Gift Certificates to Pizza Ranch and Omaha Steak Company.
Value: $180      Minimum Bid: $85

Pure Michigan


No salt, no sharks, no worries. Enjoy all Michigan has to offer with Michigan wine, hard cider, Michigan snacks, and the perfect oven mitts and coasters to compliment.
Value: $120     Minimum Bid: $75

The Berry Best


Enjoy the berry best of British Columbia! Complete with berry jams, crackers, wine, and chocolate covered berries, you'll definitely know BC is a "berry" special place.
Value: $100      Minimum Bid: $60

Texcellent, Y'all


Everything is hotter in Texas! This basket brings the punch with a variety of barbeque sauces, meat rubs, and supplies to picnic and grill out.
Value: $125      Minimum Bid: $75

You are LOVED.


Massachusetts sends their love to you. This basket is complete with all of GEMS favorite items from our LOVED. merchandise line.
Value: $110      Minimum Bid: $65

Don't Worry, Beer Happy


This basket has all the Wisconsin staples you need! From a variety of beers, craft sodas, and sausages, you will feel right at home in America's Dairyland.
Value: $150      Minimum Bid: $100

Nuts About This Basket!


California puts the JOY in Almond Joy. Munch on a basket full of almond goodies from Blue Diamond.
Value: $100      Minimum Bid: $70

A Step Back In Time


Enjoy time away on Michigan's favorite island! Hop on Schepler's Ferry, use this $250 gift card towards your stay at the new "Mackinac House" hotel, and enjoy dinner at the Pink Pony on the waterfront. After dinner, delight in some JoAnn's fudge.
Value: $400      Minimum Bid: $275

Settle Your Soul


Soothe your soul with this assortment of books from author Karen Ehman. Included is her Hoodwinked study kit including a book, Study Guide, and DVD series, as well as two other recent releases.
Value: $100      Minimum Bid: $45

"TOTE"ally

 

A Group Effort


Meet "Totey!" This is a unique basket filled with GEMS gear and donated by women at the GEMS Conference this summer. This bag was passed from woman to woman, and all merchandise was carefully chosen by the women who lead in clubs.
Value: $125      Minimum Bid: $65

Definitely Dutch


You will love some Dutch goodies as well as a beautiful 18" doll dressed for Tulip Time. Boy & girls outfits are handmade by Holland, Michigan's Tulip Parade Costume Seamstress and ready for play or display.
Value: $175      Minimum Bid: $85

Sincerely, Bob Goff


Filled with all kinds of happy, this basket is representative of tonight's speaker, Bob Goff. Included is a daily flip calendar, devotional, both of his books, and a water bottle.
Value: $140      Minimum Bid: $80

Perfectly Pampered Pets


Pamper your four-legged friend with the goodies in this bone-shaped basket. Treats, toys, blanket, camping mat, and a $50 gift certificate to VIP Grooming Salon, where every pet is very important!
Value: $300      Minimum Bid: $175

Capture the Spark


If it's time to update your family photos, this package is for you! Use this gift certificate for a full family photography session, good for up to one year, plus two frames and a photo book.
Value: $400      Minimum Bid: $225

Mum's The Word


Get your porch or patio fall-ready with two beautiful Mums, perfect for the changing Michigan season. Also included is a seasonal wood decoration, all from Andy Mast Greenhouse.
Value: $75      Minimum Bid: $45

Go Ahead and WINE


The LaGrave Michigan GEMS Club has filled this basket with everything you need to host your next wine night. Enjoy a variety of wines, glasses, crackers, chocolates, and even a wine corkscrew.
Value: $240      Minimum Bid: $150

The Salt is Coming!


Take care of the inside AND the outside of your vehicle with this full-service basic interior detail, 7 auto wash coupons courtesy of Breton Auto Wash, and other fun products.
Value: $100      Minimum Bid: $65

Local Roasters


Coffee lovers will enjoy this assortment of locally roasted coffee products from Schuil Coffee. Roasted right here in Grand Rapids, these coffee products will rival any others!
Value: $130      Minimum Bid: $60

MVP Sportsplex Package


MVP has offered a 3 month VIP membership to tackle your health goals. With two locations to choose from, this will be a great way to step into fitness.
Value: $300      Minimum Bid: $75

A West Michigan Favorite


Local favorites from Russ' Restaurants includes fresh cinnamon rolls, pecan buns, and a gift certificate to enjoy dinner at any local Russ' location.
Value: $60      Minimum Bid: $40

Taste of Kilwins


If chocolate is what satisfies your sweet tooth, look no further! Donated by GEMS clubs in Alberta, Canada, this is a sampling of all the best Kilwin's of East Grand Rapids has to offer.
Value: $100      Minimum Bid: $55

FALLing into decadence


All the sweetness of fall is available with this basket full of caramels and apples. Enjoy a variety of hard and soft candies made in Montana, as well as fresh Michigan apples donated from Wittenbach Orchards. To top off the feel of fall, take home a beautiful mum plant from Ludema's Greenhouse.
Value: $95      Minimum Bid: $45

All Things Unicorn


Perfect for the young unicorn lover in your life, this backpack is filled to the brim with a unicorn puzzle, hooded scarf, wall hanging, and other sparkly surprises. Surprise the young girl in your life with this fun gift.
Value: $70      Minimum Bid: $25

GO KNIGHTS!


Calvin Alum will love this package from the Athletics department at Calvin University. This basket is full of items representing nearly every Knights team and includes a certificate for a family 4-pack of tickets to an upcoming game. Think you might make this item top Hope?
Value: $150      Minimum Bid: $40

GO FLYING DUTCHMEN!


Get ready to support your Hope College Dutchmen with this athletics package. You'll be looking great with a new hat, shirt, pennant, stadium seat, lanyard, and insulated beverage container. Can you do what it takes to make Hope beat Calvin?
Value: $100       Minimum Bid: $30

Flair for Hair


Are you ready to be pampered? The Salon Co, in Zeeland, has provided all you need to experience professional hair care at home and in their beautiful location near Grand Rapids. Includes brands like Redken and Moroccan Oil, and a gift certificate to be used with any of their salon stylists.
Value: $350      Minimum Bid: $125

Kumsifu Mungu "Praise God"


Greetings from our GEMS girls in Kenya! All products donated are handmade and include 3 necklaces, bracelets, earrings, a bottle opener, a keychain, and a hand-dyed piece of material.
Value: $60      Minimum Bid: $25

Campers, Cars, and Cottages!


An entire year of date nights is available courtesy of Showspan Corporation. With this package, you will receive 2 tickets to every DeVos Place show in 2020.
Value: $188      Minimum Bid: $75

Girls just wanna have fun (Reading Books)


Book lovers—you'll want to get your hands on this basket! This basket contains all sorts of books and gifts from Faithgirlz and Zondervan.
Value: $185      Minimum Bid: $80

New Holland Brewing


Find all of your favorites from New Holland Brewing, including Dragons Milk, Knickerbocker Gin, and other fantastic merchandise including a cooler, hat, water bottle, and towel.
Value: $175      Minimum Bid: $80

Pretty and Pampered


GEMS clubs from Minnesota say "hi!" You'll enjoy a soothing eye pillow, coffee, Minnesota mugs, adorable earrings, a pillow, tea towel, and a wall hanging with an iconic Minnesota expression.
Value: $125      Minimum Bid: $65

Are You "Yeti" for a Picnic?


Filled with a variety of picnic items, this trendy Yeti cooler will be a sure hit at your next outing! All items inside donated by Gordon Food Service of Grand Rapids.
Value: $350      Minimum Bid: $225

Class Act Christmas


Enjoy a night out in Grand Rapids with two tickets to Amy Grant and Michael W. Smith's Christmas concert in a box suite, complete with unlimited food and beverages. Basket donated from CareLinc.
Value: $600      Minimum Bid: $200

Wrapped in love


New baby items perfect for expectant parents. A handmade baby quilt, books, games, and puzzles will be the beginnings of a fun, nursery collection.
Value: $150      Minimum Bid: $65

Mail With Meaning


Stay in touch with your loved ones near and far with 36 homemade cards and 25 photo cards. Perfect for all occasions from Get Well, Baby, Anniversary, Sympathy, Hello, and Happy Birthday.
Value: $65      Minimum Bid: $30

Broadway's Best


Dinner and a show makes the greatest gift! This package from Broadway Grand Rapids includes a certificate for up to $200 for any of their 2019-2020 shows and a dinner gift card to a restaurant of your choice.
Value: $250      Minimum Bid: $175

From Washington with love


Take a taste of Seattle's best with this basket full of goodies from our clubs in Washington! You'll enjoy an assortment of coffee, teas, jams, scones, smoked salmon, and a cute tote to take it all for a picnic!
Value: $80      Minimum Bid: $45
A special thanks to all the clubs, churches, businesses, and individuals who contributed items for the baskets.